Our Certified Roofers Install Metal Roofing in Nashua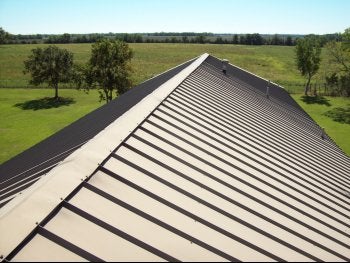 When you install a roof in your place of business, you want something that will last you throughout the years. At United Roofing, we offer Southern New Hampshire roofing services and can install or repair metal roofs as well. In addition to the material's long-lasting nature, there are many attributes of metal roofing that makes it a one-of a kind choice.
Metal roofing can provide additional protection from the elements. The interlocking system can decrease your chances of sustaining damage caused by fire, rain, or snow. The weather-proof roof is designed to be energy efficient, low maintenance, and long-lasting!
Make an investment in your business!
Choosing to install a metal roof from our team at United Roofing can act as a great investment in the future of your company. Our professionals will ensure that the vision you have comes to life in a timely and efficient manner that is sure to leave you satisfied for years to come. If you are prepared to receive top-quality metal roofing services in Nashua, please feel free to contact us today at (603) 577-8909.